Special Interests An Overview
My portfolio is splitted into different galleries. Each gallery provide a number of pictures belonging together as explained in the abstract.
Csi Miami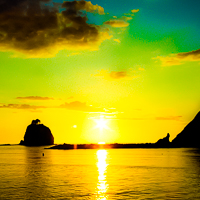 CSI Miami is a famous TV show. Besides the great plot I will always remember this special optical touch. All images seemed to be softened and soaked in turquois, yellow and orange. This series of pics are all sunsets shot by me on different locations with exactly the same touch of colors - so I call this gallery "CSI Miami".